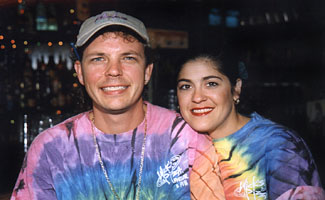 Wick's Pizza is a concept started over 28 years ago at the kitchen table of Michael Wickliffe's mother. Meredith and Mike put all the money they had, and borrowed a little from their parents, to open a pizza place in the Highlands at the current location. 28 years later, they have three locations with hundreds of employees and they wouldn't change a thing!
Today, Michael and Meredith are as active as ever, helping maintain the friendly and comfortable atmosphere of Wick's. While Mike is the high energy front-man of the company, Meredith's impact behind the scenes is invaluable. They go out of their way to make every teammate and guest feel part of the family. It's that approach that results in a place where great food, service and entertainment are king!
Wick's Pizza would like to say thanks to the best pizza clientele in the world for making Wick's Pizza Best of Louisville for over 28 years.
Our Timeline
The story of Wick's Pizza started in the late 80's. Although the menu of Wick's was developed at the kitchen table of his parents, the beliefs, philosophy and work ethic were developed during Michael's years in the restaurant industry. Follow us through the evolution of Wick's Pizza.
1990 – Michael entered the pizza business with a loan from a friend and a management position. He would learn the ups and downs of the business "on the job."
1991 – Michael decided to go out on his own. He opened the 1st Wick's Pizza in the Plainview Shopping Center in eastern Louisville.
1993 – Meredith and Michael relocated the restaurant to a prime location in the Highlands on Baxter Avenue, its current location.
1994 – Wick's Pizza took off and never looked back! Healthy sales helped the Wickliffe's open Wick's Pub next to the restaurant.
1998 – Growing popularity prompted the Wickliffe's to open the Goose Creek location in eastern Louisville.
1999 – Desperate for more room to grow, the Baxter Avenue location expanded to the neighboring building – taking over the entire block!
2002 – Goose Creek Wick's relocated down the street to a larger building.
2002 - The Wickliffe's opened their 3rd location in Middletown on Shelbyville Road.
2009 – Wick's expands to Indiana with its 4th location opening in New Albany on State Street.
2018 – Goose Creek begins move to Hikes Point April 9th, 2018. After 20 great years!
2018 – Wick's expands to Hikes Point opening in July 2018.
Getting hungry? Order online.